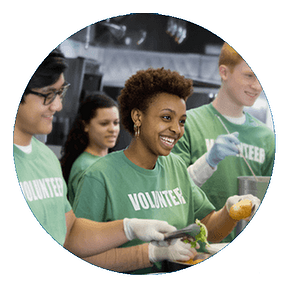 Blue Zones Project® is a well-being improvement initiative designed to help make healthier choices easier. Up to 80% of our health and longevity is determined by our environment, so optimizing our surroundings can add both quantity and quality of life. When our entire community participates – from our worksites and schools to our restaurants and grocery stores – small changes contribute to huge benefits. To do your part, follow these simple steps and pledge to make changes in your personal surroundings, too!
Step 1: Learn about the naturally occurring Blue Zones® where people live the longest with lowest rates of chronic disease.

Visit bluezonesproject.com or, better yet, read the best-selling book Blue Zones: Lessons for Living Longer from the People Who've Lived the Longest.

Step 2: Take the "Vitality Compass" to check your own well-being
A 3-minute online tool will estimate how long you'll live if you don't make changes to your current environment. If you monitor your well-being, it's easier to manage it. Take the Vitality Compass today.
Step 3: Pledge to complete at least five suggestions on the Blue Zones Project "menu"
Why? The menu offers choices to modify your personal surroundings so you're more likely to be healthier and happier. Download the list of options.
Step 4: Participate in at least one of the following activities in the next six months
Step 5: Sign up for continuing information
Register online to receive our newsletters and activities updates. We promise to never sell your information or let others use it for marketing purposes. We just want to keep you informed of what we're up to in your community. You can also follow us on Facebook!
---
Five Promises
---
Self Promises: Start your journey today and make the following promises to your self:
I will move naturally more often throughout the day.
I will discover my purpose and renew my spirit.
I will meet new friends who will help change my life for the better.
I will eat more fruits and vegetables and be mindful of all else that I eat.
I will take time for myself and find ways to relieve stress.
---